Binfer Enterprise Sync – a Rsync Alternative
For the last 24 years, Rsync has been used by companies worldwide to synchronize data between computers. A lot has changed since then, making it a technology that comes with considerable drawbacks and limitations. This article aims to outline all the reasons Binfer provides a superior alternative to Rsync.
Released in 1996, Rsync stands for 'remote synchronization', being applied as an automated way to synchronize data between computers over the internet. Being a free solution, many companies quickly adopted the technology for backing up data and sharing across networks. Basically, Rsync identifies the difference between sending and receiving folders by checking the size of each file and transfers only the differences. This made Rsync a useful tool for mirroring data or copying files between different locations.
How Binfer Enterprise Sync Works
Binfer Enterprise Sync's first version was released in 2017, providing users with a faster device to device file synchronization software with advanced automation rules. By establishing a direct connection between devices, Binfer is inherently faster and more secure. Through one easy to use interface, users can quickly set up, manage, and monitor hundreds of synchronization jobs across vast global networks, referred to as 'sync rules'.
Once sync rules are created, Binfer systematically scans the directory and the files/folders present in each rule. Users can set this scan process up at any interval, with the default being set to every 10 minutes. As changes are made to the files/folders included in each sync rule, Binfer will automatically mirror those changes across all other devices.
Advanced features allow for back up, two-way syncing, delete files after syncing, and much more. This makes Binfer one of the easiest and most advanced data synchronization platforms available today.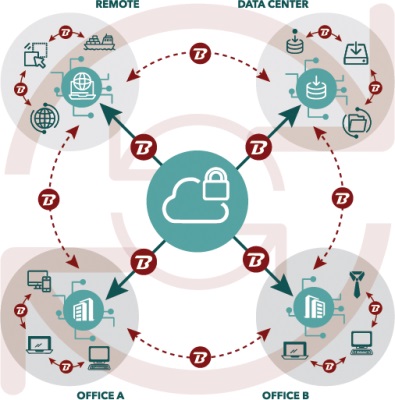 Why Binfer Is A Good Alternative to Rsync
Simple to Set Up: Rsync requires a complicated installation process, requiring the involvement of web developers and engineers. To set up Rsync first, you have to install rsync, then, install CopSSH. After all the required installations, you need to activate the user. Make sure to set up a Linux rsync host, NAS rsync host, BackupAssist rsync daemon mode which provides two options for running backups over a Rsync connection. Read about the whole process of rsync installation here. Deployment with Binfer is a much easier process. The GUI based Binfer Enterprise Sync installation wizard walks you through each step of the installation process and allows you to start syncing within minutes across Windows, OSX or Linux computers without any additional software.In contrast rsyn cannot be setup on WIndows computers without setting up additional software like cygwin.
More Efficient: Rsync can fail when it comes to transferring big data, hundreds of documents, or large folders. When syncing between multiple servers, the sync process often lags, getting stuck as the systems scan each file. Binfer's powerful job queuing functionality ensures that all files are transferred. Customized rules make file syncing a simple, automated process for sync jobs of any size.
Easy to Manage: With Rsync comes many of the limited functions you'd expect from a 24 year-old technology. Binfer, however, has numerous advanced features that allow sync rules to be executed across a wide variety of use cases. Among these features is the automated back-up, which can be configured between computers, servers, or a private cloud.
Versatile: Rsync is deployed on Linux mostly while Binfer is deployed on Windows, OSX, Linux, Raspberry Pi or any device that supports a JVM. Additionally, there are no file size or quantity limits: sync entire directories and replicate files of any size or format.
More Secure: Rsync performs no encryption on its own. If you don't use SSH and do not tunnel the Rsync traffic through Stunnel or VPN, then no encryption is performed. With Binfer, all sync files are secured with 256-bit encryption, the same level of encryption banks use, with the keys being created and kept on your devices.
More Cost-Effective: Rsync does not compress filetypes such as JPEG, LZO, LZMA/2, ZIP, GZIP, etc. With Binfer you can compress data on the fly using various levels of compression, yielding tremendous cost savings on transfers done via expensive satellite and GSM networks.
Reliable: Rsync has connectivity issues when you transfer large amounts of data (>50GB) over ssh using rsync the DSL connection will drop periodically. Binfer allows you to sync across the globe over any kind of connectivity and powerful job queuing functionality ensures all files are transferred.
In short, Binfer is a file synchronization tool that was built for the modern business. For all the reasons previously mentioned, it provides a far superior way for businesses to set up, monitor and manage data replication. To learn more about how you can deploy Binfer in your environment, visit https://www.binfer.com/products/enterprise-sync/
| | | |
| --- | --- | --- |
| Functionality | Rsync | Binfer |
| Easy Installation | No | Yes |
| Sync of millions of files | No | Yes |
| Setting up the rules | No | Yes |
| Auto-resume | No | Yes |
| Deletion of files | No | Yes |
| All OS | No | Yes |
| Encryption | No | Yes |
| Compression of all file types | No | Yes |
Fill out the form to request a demo.